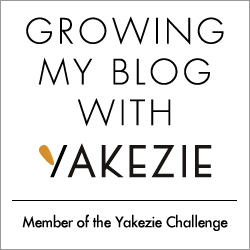 I wanted to take a minute to post that I am going to join the Yakezie Challenge. While it is maybe a little uncharacteristic to join the challenge so soon after starting (it's been a whole day!), I wouldn't have even launched this blog if it weren't for Yazekie.
For the last several months I have been contemplating the launch of this new blog. The code sat in the depths of another domain where I continuously tweaked and modified it until it matched my needs and wants. While it still isn't yet done, I just had to get started immediately!
It was maybe 2-3 (closer to three, I think…I don't remember) weeks ago that I found Sam's blog at FinancialSamurai. After looking around religiously for a few days, I noticed a common theme: the Yakezie challenge, and the awesome community that had built around it.
In a few posts I found, Sam outlined the Yakezie challenge, the goals, as well as a little mention of some independent, go-get-em spirit. I knew then that I had to launch, and I posted my intention on the forums. Almost immediately, at least as far as the internet goes, I had two warm welcomes—that definitely sealed the deal!
The simple fact is that without that little push from Sustainable Personal Finance and BudgetingInTheFunStuff, MoneyMamba would still be a discombobulated WordPress theme and a .doc sitting on my desktop.
Something Special
There's just something incredibly organic about the whole Yakezie network. Unlike all the other blog networks out there it isn't made up of a bunch of self-professed gurus touting their latest get-rich-quick e-book for $19.99; no, it's just a bunch of ordinary people who blog about their lives, their finances, and the best ways to manage money. That's awesome!
So here I am one day after launching my blog and joining a challenge right from the start. Ambitious? Maybe. Fun? Absolutely!
In order to succeed, I'll need to reach an Alexa rating of 200,000 or below, which I know from experience in the personal finance and investing niche is no small task. Unfortunately, there just aren't as many people looking for budgeting, investing and saving blogs as there are people looking for celebrity garbage. (I guess that's why PerezHilton is the 776th most popular site in the world.)
My personal bar will be set much higher. I want to see if in the next 6 months, 180 days, I can move from 19,237,914 to sub-100,000. Such a goal will keep me honest to myself, this blog, and the goals of the Yazekie challenge of selflessly helping/promoting others.
So with that, let's go!
Stats as of January 24: Alexa Ranking 19,237,914
Stats as of July 24: Alexa Ranking (Start the countdown!)
I look forward to six months of hard work and determination, the opportunity to get to know the many people participating in the challenge, as well as those who have already made it in!